We offer a wide variety of heated and unheated classes, allowing you to start slowly, safely, and comfortably into a multi-dimensional practice.
Basics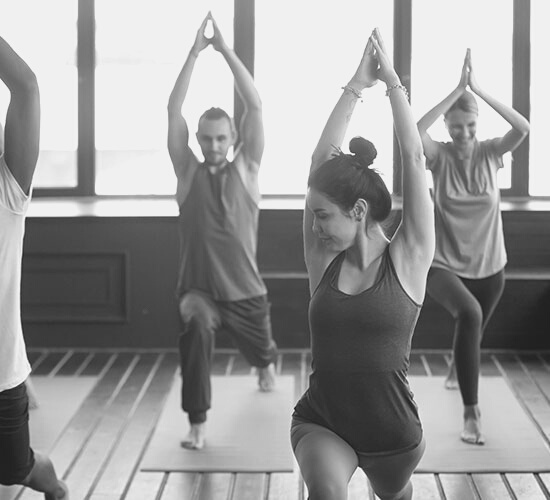 This is where your practice begins – An unheated, slower-paced class consisting of a gentle flow sequence followed by deep stretching. Whether you've never been on a yoga mat, are recovering from an injury, or rediscovering your practice, our Basics yoga class will develop your strength, flexibility, comfort level, and stamina as you challenge your body and calm your mind. Led by experienced and supportive instructors, this is a full-body experience. You'll learn basic postures and movements while enjoying the opportunity to breathe, focus, and give your body the stretch and strength it craves.
Flow
Moving at a slow to moderate pace, learn how to transition between postures more smoothly in a studio heated to approximately 80 degrees. You'll continue to master basic and intermediate alignments while taking the time to enjoy each one and understand what it's supposed to do for your body. Newer students find our Flow yoga class builds confidence, while more experienced yogis like the opportunity to review fundamentals while developing deeper breath and focus. Leave class feeling refreshed by opening your mind and strengthening your body with accessible poses, fluid movement, and proven breathing techniques.
Stretch & Restore
Stressed out? Sitting at a desk all day and stiff as a board? Tired of constant nagging back pain? Are you a golfer looking for 10 more yards off the tee? Or are you a runner that wants less pain & faster recovery? Our Stretch & Restore yoga class is for you! We'll help you feel better in your skin and protect your body from injury and long-term dysfunction. This class will quickly become an essential part of your week. Focused stretching allows muscles to relax and lengthen, which puts less strain on the skeletal system and reduces tension throughout the body. We'll address all the major muscle groups and give you healthier joints, fewer injuries, improved sleep, and fewer aches & pains.
Powerful Flow
Raise the temperature and give it all you've got. Increase your endurance, flexibility, and strength in this heated, full-body blast. Challenging, sweaty, and designed to prompt a mind and body breakthrough, our vinyasa-based Powerful Flow yoga class moves at a quicker pace for a more fluid, energizing, and fun practice. You'll advance into a deeper mastery of body & mind and walk out of class feeling strong, relaxed, and ready to take on whatever comes your way!
Sculpt & Flow
Think yoga isn't a "real" workout or something designed for your more flexible better half? Think again! Our Sculpt & Flow yoga class is an amazing blend of yoga and weight training. Your initial warm-up is followed by an intense, cross-training workout using bands, dumbbells, and your own bodyweight to build strength, endurance, and increase cardiovascular thresholds. You'll push yourself with some high-energy jams then cool down with safe stretches. Be prepared to use each and every inch of your towel! Experience the best of both worlds – a killer workout with a solid yoga vibe here at C6 Yoga.
Hot Flow
Some like it hot. So do we — 95 degrees to be exact! Be sure to come sufficiently hydrated because, in this class, we crank up the thermostat and give you a chance to get deeper into folds and twists while building strength, stamina, and flexibility. Our Hot Yoga classes feature challenging core and balance sequences designed to take your practice to the next level. You'll leave the class feeling energized and balanced — top to bottom! Be sure to bring an extra towel!
Core Barre
One of our most popular specialty programs, our Core Barre class works the body from head to toe with clean and simple sequences enabling your focus to be on form and alignment. You'll tone and firm with ballet-inspired exercises, fire up your core with Pilates abdominal and posture-strengthening moves, and finally, cool down with yoga movements designed to lengthen, stretch, and connect your spirit to mind and body. Presented by our elite instructors, we'll deliver a unique, dynamic, safe, and fun workout!
Powerful Flow + Happy Hour
Celebrate your dedicated yoga practice and enhanced body & mind with your C6 Yoga crew community. After our Saturday Powerful Flow yoga class, Happy Hour begins! This event is the perfect way to relax & unwind while connecting with our amazing family of like-minded yogis. Bring a beverage of choice and perhaps a light snack if you'd like (totally optional). As we continue to grow, look for some cool C6 Yoga sponsored events too. We want to share the love and great vibes of our amazing community. Cheers!
iRest Meditation
A simple and accessible form of meditation, designed for modern-day living. iRest has been shown to be effective in scientific trials for conditions including chronic pain, sleep problems, depression, anxiety and post-traumatic stress disorder (PTSD). The program is simple to learn and easy to practice by anyone, regardless of physical ability or experience with meditation. Once learned, iRest becomes a set of tools for life!
Follow the Yogi
This flowing class is taught in a follow the leader style, this is an opportunity for yogis to come together, generate some powerful group energy and learn from one another! Some experience is encouraged. The teacher will lead and class will follow. Follow the Yogi incorporates yoga postures in a fluid, flowing style that combines strength and spirit, integration of breath with movement and alignment principals. Accessible to all levels of practitioners, the class may include a variety of core work, hip openers, inversions, and backbends. Leave feeling cleansed, energized and inner connected. Modifications are given. Not recommended for absolute beginners.